"Dear God, please give me more boldness in my faith, and help me to fully rely on You to sustain me."
Have you ever looked back on your life and thought, "God, how did You do that?" I'm sure many of you can relate. The above prayer is one that I have been praying for about the past year or so, and here I sit, with 2 weeks left at Hampton Beach Summer Mission, amazed at how God is growing me in my walk with Him. Here is my "God, how did You do that?" story.
My prayers for boldness in faith began when I was in community college. After graduating from a private Christian high school, I found myself surrounded by a plethora of different worldviews, knowing the truth but unsure of how to find my voice among the muddiness of tolerance and self-discovery that our culture so desperately clings to. I thought I had the answer. Finding a great interest in apologetics, I thought that my knowledge would increase my boldness in faith. But after much studying, I found myself prideful in what I knew and still having little confidence in sharing my faith with others. I was disappointed that God wasn't working through this, but looking back I see God's hand very clearly.
After transferring to state college, I joined Cru. I was very encouraged by this community of college students. I didn't think many college students followed Jesus, but after embracing this community I did not feel alone any longer. God used my fellow students at Cru to convict me of how content I was in my faith. By being with these students who were so passionate about Christ, God convicted me that my life was about His kingdom and not my own. As a result of this, the more I grew in identity as a child of God, the more steps I naturally took to share my faith and have spiritual conversations with my friends. I did not expect this to happen. God was beginning to answer my prayer for increased boldness, not by my own efforts, but by His own hand, giving Him the glory. I still find myself asking, "God, how did you do that?"
This all lead up to my journey to Hampton Beach. When I joined the leadership team at Cru in Fall 2016, I longed for God to be the One who sustains me and nothing else. Though God gave me great relationships intended to bless me, I still found myself putting relationships with my family, friends, and my boyfriend on the same level as my relationship with God. I longed for this not to be true, but no matter how much I prayed I still found myself in the same patterns of compromising my relationship with God in seeking after my earthly relationships. I was disappointed that God wasn't working through this, but looking back I see God's hand very clearly.
During Winter Conference of this same semester, summer mission was advertised. I had known about it before, but always blew this off thinking that it wasn't the right time or that I had been on enough mission trips before. But when I felt a pull on my heart to apply, I knew that God had something in store. Of course this brought to mind every reason that I didn't want to go on a summer mission. I didn't want to book my last summer before grad school, I didn't want to spend a summer away from my family and with a bunch of college students I didn't know, I didn't want to be mentored by someone who knew nothing about me, I didn't want to do street evangelism, and I didn't want to get a job at Dunkin' Donuts. Truthfully, I didn't want to go on summer mission, not even a little. But this made it that much more clear that this pull on my heart was not coming from my own fleshly desires, but from the desires of the spirit God has placed in me as His child. God used my reluctant heart to affirm his plan. I still find myself asking, "God, how did you do that?"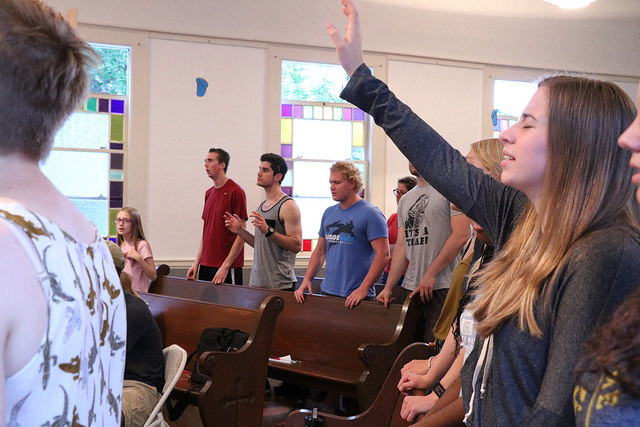 "God convicted me that my life was about His Kingdom & not my own."
So, now it's week 9 of the Summer Mission that I did not want to go on, and God's faithfulness abounds. This trip has been challenging. A few of the challenges that this trip brought forth has been submitting to my staff and teammates, trusting and confiding in people who I only have known for a short time, stepping out in faith to talk to strangers about Jesus, pushing myself to have spiritual conversations with those I meet at work, having an eternal mindset, and being trusted with a leadership role among my peers. All of these things have challenged and humbled me in various ways. The amazing part is this; while I face some of the greatest challenges of my life, those who I typically lean on in times of weakness are 220 miles away. This has caused me to rely fully on God, while also gaining confidence in my identity as his vessel. Not even a year ago I found myself lost in my inability to grow in boldness and reliance on God, and it in these two areas that God has been refining me the most. I still find myself asking, "God, how did you do that?"
Going home, I look forward to taking what I have learned here at Hampton, and seeking how God wants to use this trip in my life back home. I also look forward to being able to live out the relationships that God has blessed me with, but this time placing Him at the center. The more I grow in my relationship with God, the more I realize how much more work needs to be done. This does not make me overwhelmed, but overjoyed. As one of my teammates so accurately described it, "being refined by God hurts so good."
This is my "God, how did you do that?" story. I am sure one of many to come. Now, I long to trust God, even when I face times of uncertainty, knowing first hand the work that He does when I cannot see.
"Dear God, thank you for your faithfulness. Strengthen me to trust your hand at work."
Galatians 2:20 ~ I have been crucified with Christ. It is no longer I who live, but Christ who lives in me. And the life I now live in the flesh I live by faith in the Song of God, who loved me and gave himself for me.